The fabled Odeon of Herodes Atticus dominates the western slope of the Acropolis rock. It was the third odeon constructed in ancient Athens after Pericles' Odeon and Agrippa's Odeon in the ancient Agora. Its construction around the second century AD was funded by Tiberius Claudius Herodes Atticus in memory of his deceased wife, Regilla. He was a known benefactor and offspring of an important Athenian family.
The exact date of the Odeon's construction is unknown. It was certainly built sometime before 174 AD, when traveler and geographer Pausanias visited Athens. Pausanias wrote about the monument in great admiration.
Herodes Atticus' Odeon was originally a steep-sloped theater with a three-story stone front wall and a wooden roof made of expensive timber, specifically Lebanon cedar trees. From its construction, it served as the venue for music concerts with a capacity of 5,000 spectators. It stood strong for a century or so until it was destroyed and left in ruins by the Heruli in 267 AD.
The audience stands and the orchestra (stage) were finally restored around the 1950s with the use of Pentelic marble. Since then it has served as the main venue of the Athens Festival, running from May through October each year, featuring a multitude of acclaimed Greek and international performances.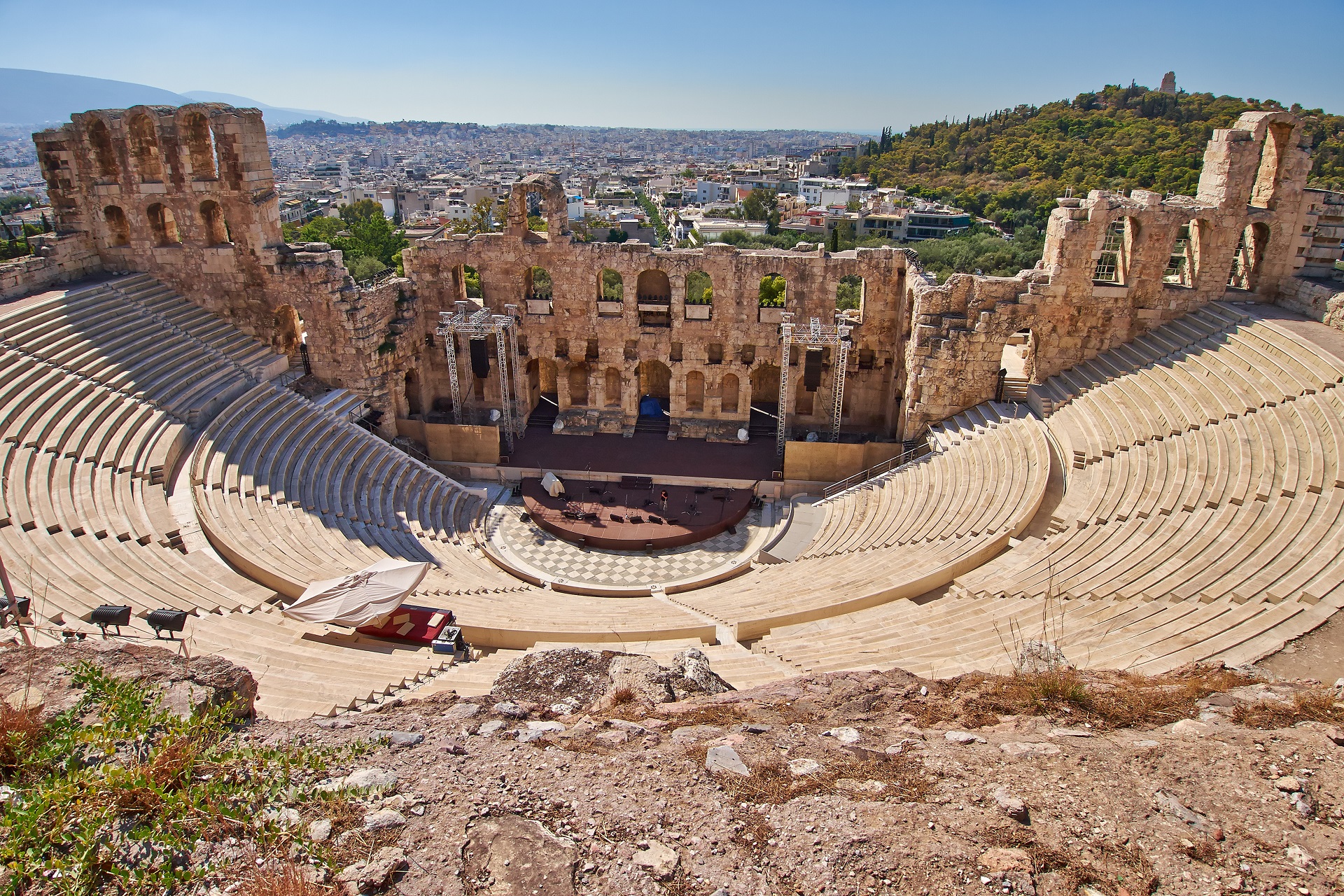 The Odeon of Herodes Atticus, a true art epicenter
Performances in the Odeon, after its restoration in the 50s, include many world-famous artists. In 1957, Maria Callas performed here, as part of the Athens Festival. In May 1962 Frank Sinatra sang in two benefit concerts for Athens. Another memorable performance included Greek singer Nana Mouskouri in 1984, returning to her country after 20 years of absence. Luciano Pavarotti performed at the Odeon twice, in 1991 and 2004. Vangelis' Mythodea premiered here in 1993, and the Odeon hosted Yanni's Live at the Acropolis performance also in 1993. Sting made it a part of his Mercury Falling Tour in 1996. Mario Frangoulis recited the historic Axion Esti poem, written by Nobelist Odysseus Elytis, musically composed by Mikis Theodorakis and conducted by the composer himself, in 1998. Elton John performed twice here during his Medusa Tour in 2000. In 2010, tenor Andrea Bocelli held a fundraiser concert at the Odeon.
The list of famous artists who have performed at the Odeon of Herodes Atticus goes on, to include: Plácido Domingo, José Carreras, Montserrat Caballé, Alicia de Larrocha, the Bolshoi Ballets, Maurice Béjart, Joaquín Cortés, Paco de Lucía, Diana Ross, Liza Minnelli, Goran Bregovic, Jean Michel Jarre, Ennio Morricone, Jethro Tull, Karolos Koun, Mikis Theodorakis, Manos Hatzidakis and many others.
The Athens and Epidaurus Festival 2017
This summer and until the end of July, you can attend the renowned Athens and Epidaurus Festival, not only in the Odeon but in several other cultural hot spots as well. Events you could be alert for in the Herodes Atticus Odeon include:
Greek National Opera: Madama Butterfly, by Giacomo Puccini (May 31, June 2,3,4,7)
Renowned for the lovely arias, the melodies and its theatricality, Giacomo Puccini's opera Madama Butterfly, an indisputable masterpiece, has long been a touching experience for audiences around the world.
Thanos Mikroutsikos: I'll Sing My Best Songs to You (June 13)
The Athens and Epidaurus Festival pays tribute to a leading Greek composer, Thanos Mikroutsikos. Don't miss the chance for another big concert at the awe-inspiring Odeon.
Imany in concert (June 15)
Imany claims that Greece is one of her favorite destinations. Not surprising, if you consider her unique bonding with the Greek audience. The singer and her band will perform at the Odeon for a single concert, and it will be, in her own words, a dream come true.
Maria Farantouri: Beyond Borders (June 19)
Worldwide famous singer Maria Farantouri will be presenting the original work that was composed for her voice by Cihan Türkoğlu. During this musical encounter, you will witness the collaboration of internationally acclaimed soloists such as Anja Lechner, Meri Vardanyan, Christos Barbas and İzzet Kızıl.
In the second half of the concert, Maria Farantouri will meet on stage with Catalan singer Maria del Mar Bonet. The two singers meet to sing Spanish Catalan songs, as well as songs composed by Mikis Theodorakis and Manos Hatzidakis.
Ludovico Einaudi: Elements (June 20)
An acclaimed Italian pianist and composer, Ludovico Einaudi promises to captivate your ears with his spellbinding music. Einaudi will cast a spell on you with his moving, effortlessly lyrical, exceptionally refined music, which masterfully weaves together a number of music genres.
Armonia Atenea: Sweeney Todd – The Demon Barber of Fleet Street (June 25,26)
In its third annual musical production, the Armonia Atenea – The Friends of Music Orchestra and George Petrou will once again astonish you with a musical already reviewed by critics as the best thing to come out of Broadway in years. This impressive Sweeney Todd production features a cast of 26 famous actors and opera singers, along with a symphonic orchestra ensemble of 35.
Yann Tiersen: Solo in Concert (July 13)
Famous lyrical composer Yann Tiersen broke through to the mainstream audiences in 2001, thanks to his wonderful soundtrack for Jean-Pierre Jeunet's film, Amélie. A long-time favorite among Greek audiences, Tiersen will return to the Odeon for one performance, the jewel in the crown of his global tour.
Wim Mertens: Dust of Truths (July 30)
The great Belgian composer Wim Mertens returns to Greece for a single, bewitching concert. Don't miss the chance to get mesmerized by Mertens' minimalist music and diverse influences from classical, pop, jazz, and ambient music.